ARCTIC TRANSFORM
Transatlantic Policy Options for Supporting Adaptation
in the Marine Arctic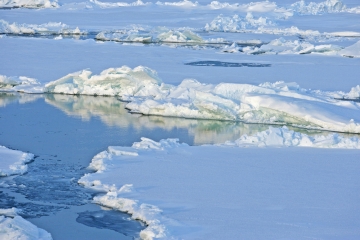 Arctic ice floes. Image courtesy of NOAA.
The Arctic region plays an important role in regulating the world's climate. It is also a region highly impacted by climate change, with average temperatures rising almost twice as fast as the rest of the world and sea ice melting much faster than previously predicted. These rapid changes will have significant impacts on human activity in the region and the Arctic marine environment.
The goal of the Arctic TRANSFORM project is to develop transatlantic policy options for supporting adaptation in the marine Arctic environment. It places a special emphasis on involving a broad range of stakeholders to address the major climate issues facing the region. Key project objectives include:
To promote mutual exchange among EU and US policy makers and stakeholders on policies and approaches in the Arctic in the stakeholder working groups;
To provide a comparative analysis of existing policies and make recommendations with substantial buy-in as to how to strengthen co-operation between the EU and US; and
To encourage dialogue and thus improve conditions for further transatlantic policy development and more effective protection of the Arctic marine environment.
The project also convenes a dialogue among key EU and US stakeholder representatives with expertise in Arctic natural sciences, international law and US and EU marine and Arctic policy. During the course of the project, there will be stakeholder-based workshops and a final conference to present the policy options in Brussels, Belgium. Project reports (including a concise summary for policy makers) will be disseminated via the project website and to decision makers on both sides of the Atlantic.
Arctic TRANSFORM is funded by the European Commission (DG External Relations) and is being led by four institutes: Ecologic (Germany; project lead), the Arctic Centre (Finland), the Netherlands Institute for the Law of the Sea (Netherlands), and the Heinz Center (USA).